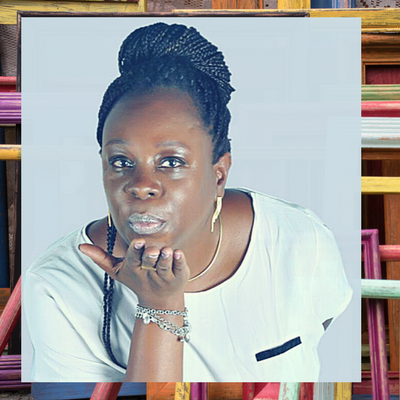 Hello everyone, welcome to the Women And Career #Womensupportingwomen interview.
We have an interesting guest here today, her name is Caroline Akinlotan, she is the MD/CEO of  RSG property services limited. She is also a Psychologist and a Realtor. She is the writer of a popular blog ''Dairy of Lagos Island property agent'' . So today, we are happy to present to you, Caroline.
Caroline, it is really great to have you here;
Question: what drives you?
Caroline: What drives me is people, I am a peoples person, I love interacting with people, this is one the reasons I studied Psychology because there is usually a lot more to people than what you see. I studied Psychology in Nigeria at the University of IFE , thereafter, I went to the UK and I followed this up at the University of Surrey in the UK, but somewhere along the line, I got derailed and ended up working in Property /Real Estate from about the mid 90s until this brought me back to Nigeria in 2008. Now, even though I have been in Real estate and enjoy this immensely watching the property market trends in Nigeria and around the world, building from scratch, interior decoration etc, the property market is a really dynamic market. At the moment, it is going through a bit of depression here in Nigeria because people are not as financially liquid as they used to be. High mortgages Interest rates are also responsible and it has become almost criminal for anyone to take a mortgage right now, therefore, the property market is in a lull right now in highbrow areas although low to medium end properties are being built at the fastest rate ever especially along the Lekki axis. In fact, study shows that this axis is the fastest developing area in the whole of Africa.
Question: You are a multi-career lady(You are into Real-Estate, You are a Psychologist and you write), if there is a younger lady out there that wants to take on this journey, what advice or tips would you give to her?
Caroline: You are right that my journey is multifaceted but I didn't plan it, it ended up the way it did but most importantly, I enjoy the things I do so my advice would be that  you should do whatever you love to do and not because XYZ is doing this and they are making money from it'. Find out where your interest lies and go for it. So working with property for me is because of my interest in people and where they live. The Psychology aspect of my career is because I am interested in what lies behind people's minds, the way they behave. I went through my career in a roundabout way but I am back doing my Psychology. I am keeping both careers open. The Psychology/Counselling I am doing again is because, in Nigeria, I discovered there is a great need for Psychologists now more than ever before as the incidences of mental health problems are on the rise. A lot of people have mental health issues which can be dealt with by a Psychologist/Counsellor before needing a Psychiatrist but a lot of people do not know the difference between them. A Psychiatrist deals with severe mental health issues which needs medications and care, a Psychiatrist has to be a doctor because before qualifying as a Psychiatrist, whereas a Psychologist can help someone dealing with depression, anxiety, low-level mental health issues that require little or no medication. A lot of people walk around with stresses and depression, not knowing what is wrong with them or who to turn to, and that is where a Psychologist comes in to help. A lot of people think that when they go through mental stress, it is a spiritual thing whereas, all they need is to see a Psychologist/Counsellor. There is a stigma attached to depression and mental health and that stigma should be lifted because studies show that 1 in 5 Nigerian suffers from some form of mental health issue. This is a worryingly high amount of people.
We also have a lot of young people suffering from mental health issues arising from drug abuse, smoking cannabis, stress of studies etc. Even though a lot of people escape mental health issues when smoking marijuana, someone else may take it once and end up in the Psychiatric hospital having severe mental issues. The mind which the psychologist works on is very important. Everyone needs to look after their mind, speak to someone if you have any concerns.
Mental health problems does not know age, location, class etc, anyone can suffer from mental health problems.
Question: Do you have business tips for younger ones?
Caroline: Whatever you decide to do, do your research, have a business plan, your target market, how you can reach them and most importantly, like what you do and do not let anyone derail you from what you want to do and once your heart is there, you will do well. When I went into Psychology, people said I would not make money in Nigeria, this caused my going into the property world for a time, but I was determined and I am back with my first love and also multitasking with my other loves.