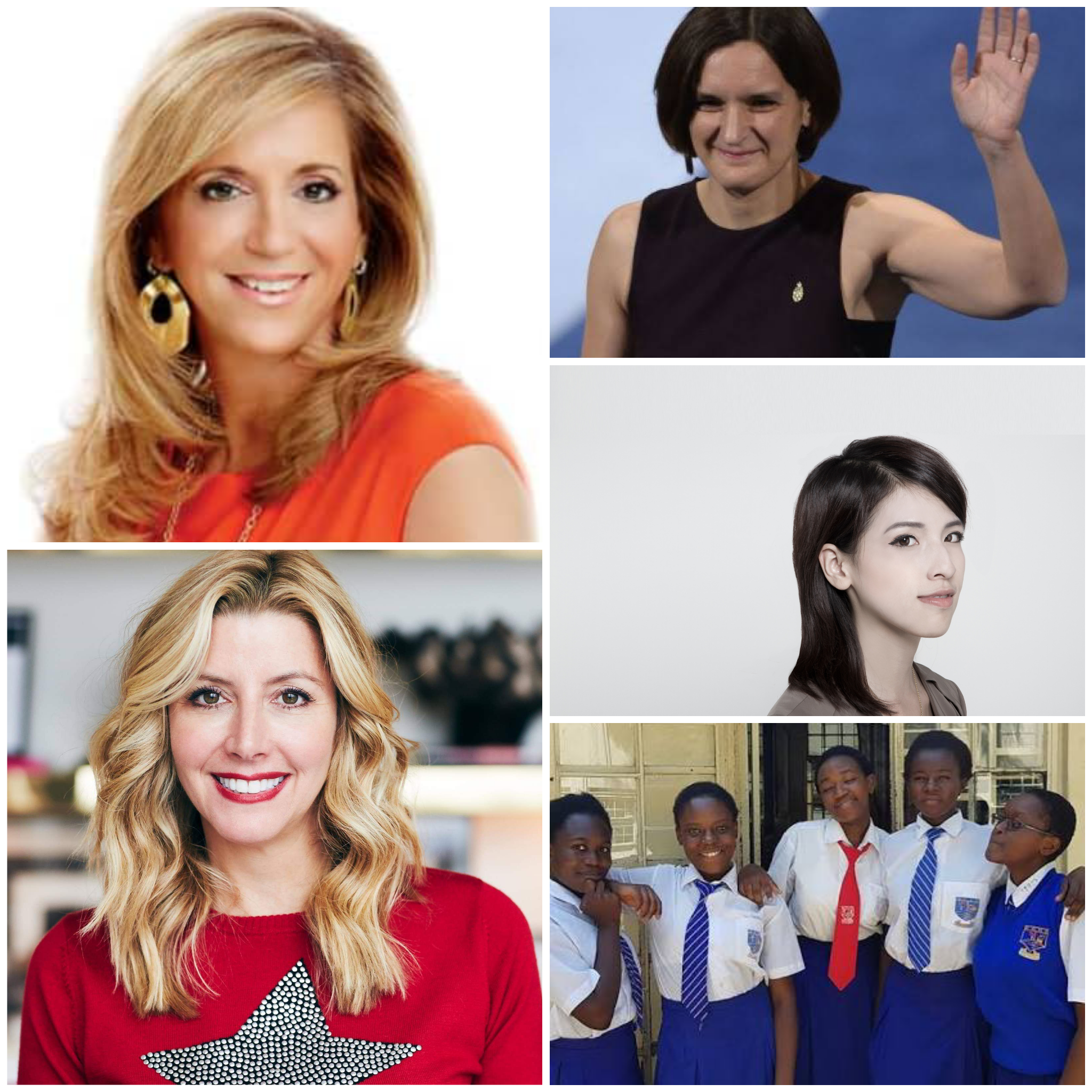 Imagine what life would be without female scientists! Yes, female scientist. Imagine wearing undergarments produced by a man who absolutely has little to no idea what comfortable undergarments actually means in a female's dictionary! Imagine not finding the right shade of compact powder to match your skin color or the right shade of lipstick to make your lips delectably fuller and kissable simply because the inventor just doesn't understand your whims! Imagine not finding the right cutleries to host that State-of-the-art dinner, just because in a man's world plate is plate and anything goes, so far as it serves! Can you just imagine giving up all the luxuries created by women scientists, from purses to bags, shoes, miracle mobs, Spanx undergarments, cosmetics, clothing, steamers, luggages, plates, hangers, closets e.t.c.
The field of Science is one largely populated and dominated by males. Historically, women were believed to be born for the kitchen and for rearing kids. However, this belief stopped holding water when some amazing women defied societal norms in the questions to pursue their scientific passions. These amazing women not only successfully defied societal norms, but also broke boundaries through their phenomenal inventions and discoveries.
Today, female scientists abound in our society and what makes it even more exciting is that our present century boasts of female scientists who are so young that it is marvelling how much they have achieved in their young lives. Daily, they keep affirming through their various inventions that age is just but a number and not a barrier to their ingenuity.
In lieu of this, Women and Career seeks to celebrate select five female scientists whom we believe are deserving of accolades with their ever-relevant discoveries. The one important factor these women have in common is their ability to have built their inventions from scratch – right from the comfort of their rooms. What more? Despite having achieved tremendous successes with their inventions, they are still in touch with their human nature – the part that craves Snickers peanut butter and foregoes fruit for them or the part that would rather pull the blanket over their heads than go for morning runs everyday like a robotic individual or even the part that would rather coo and smooch with a pet animal than with an annoying human being. Yes, the part that you and I can easily relate to, and which makes me (and you!) feel like we could just become the new billionaire down the block – Yay!
So, if you are a female aspiring to be a scientist or know someone who wishes to be one, this article could be just the propelling force to get your inspired enough to put on your A-game in the field of Science, so why not sit tight and enjoy the ride of this article!
#1 ESTHER DUFLO THE ECONOMIC SCIENTIST-
Perhaps, if told a year ago that she would win the Nobel prize in Economics for her work on global poverty, the 46-year old Development and Social Economics Scientist – who is also a professor with the Massachusetts Institute of Technology (MIT) – might have doubted. However, on 14th of October, 2019, history was made when Esther Duflo alongside two other scientists, one of which is her husband; Abhijit Banerjee, were awarded the Nobel prize in Economics.
Following this award, Esther became the second female Nobel Laureate in Economic Sciences and the youngest economist ever to be awarded this prize. Esther's work is focused on creating policies that would alleviate global poverty, if effectively implemented. She's the co-founder of Jameel Poverty Action Lab (JPAL); an initiative with three core pillars: Providing research support; training and education resources; and communicating results to policymaker.She has shattered some of the bais in Economic sceinece where very few women exist.
Profession asides, Esther is a humorous person who is more practical and expressive in her outspoken nature, even down to her hands with her occasional hand movements and periodic shrugs. In her Interview with Financial Times on March 17, 2012, she is noted to have chosen a quiet reliable venue as opposed to a classic one, preferred decaf cappuccino instead of dessert and chosen French onion soup and eggs Benedict on a toasted English muffin over other classic choices on the menu.
Esther loves a good laugh, and admits that her favorite developing country to have worked in remains India. A risk taker, she's once mentioned rock climbing as a hobby and had also been a gymnast between the ages of 11-17years up until a broken neck put her out of pursuing that career.
#2 SARA BLAKELY –
Have you ever literally fought with a particular undergarment of yours because it just wouldn't serve for the outfit you wanted to pair it with? I know I have – sever times, in fact, and I can just bet you have too. Well, so did the 29-year old Sara one day when she was preparing for a party. Not to be deterred, she went to work with scissors and sheers and created the first prototype of Spanx undergarments by cutting off the legs of a pantyhose and turning them into a slimming undergarment. 19 fast years down the lane (at 48 years of age), Sara is still waxing strong and has expanded Spanx to include bras, swimwear, leggings and even some menwears.
With four kids and a husband in addition to a multibillion company, one would think that motherhood for Sara would be such a drag, but no, that is hardly the case. Everyday is a mix of mystery and fun time with her and her family. She's a blend of imperfections and fun in such an exotic way that any would love. She's once posted herself sheepishly dropping her kids off in her pajamas with the hashtag #LateAgain. She admits wearing mismatched shoes on occasion while out with her kids. She's so thrilled about dressing her kids for the numerous family adventures or for group Halloween costumes in a way I have never known any other person to be. A lover of her beauty sleep, Sara always shoots for 7-9hours sleep daily. This, her husband; Jesse Itzler confirms while discussing his wife's schedule with Marie Claire, when he says, "As long as she gets seven hours sleep and has her Starbucks in her hand when the sun comes up, life is good". Totally cool in her own skin, Sara admits she would choose Snickers peanut butter and Cheez-Its everyday over fruits. Between being a mother, wife and CEO, Sara finds that her favorite pastime of sitting and thinking can only be kept if she spends more time in her car than immediately heading in for more work everyday. In fashion, she is a lover of goofy graphic shoes and as a ritual, delivers what she tags #MondayMugShot most Mondays where she is pictured with various mugs emblazoned with varying captivating captions. She also loves old school 70s and 80s and confirms that she lives to eat.
As a mom, she admits that one of her favorite quotes from her dad is "Failure is not about the outcome, it's about the effort". This quote, she admits has influenced her parenting skills, because she praises her child's efforts rather than the child itself.
#3 JOY MANGANO THE ENTREPREUR AND SCIENTIST-
For the typical career woman who has to juggle career and family at the same time and might find house chores such a task, the 63-year old American Joy Mangano comes to the rescue with her various awesome inventions. Some of her inventions include; the Miracle Mob which squeezes out water on its own; the Huggable Hangers whose thin profile conserves closet space; the Forever Fragrant which is a line of home odor neutralizers including sticks, wickless candles, scent strands e.t.c.; the Clothes It All Luggage System which is a wheeled luggage with organization features like a padded laptop compartment; the Performance Platforms which is a line of shoes with a rubber platform heel that gives the wearer extra height; the Memory Cloud Pillow which is a comfortable pillow with warm and cool sides for maximum comfort; and the Shades Readers which is a line of reading glasses sold in sets of three or more for easy access e.t.c. Joy was applying science to solve our everyday problems.
Just like the next-door girl, Joy participated in high school athletics in addition to other hobbies, whole working a string of part time jobs. She loves traveling and meeting new people and is a pet lover (particularly dog), having previously volunteered as a teenager in a local animal shelter.
#4 SHA YAO –
If you've ever lived with someone who's diagnosed of a cognitive and motor impairment even for a day, then you must agree on how difficult it is to meet their daily needs/demands especially in terms of feeding. So, was the case of Sha Yao when as a 31years old lady in 2014, she lived with her grandmother who had just been diagnosed of Alzheimer. Volunteering at the old people's home, she recognized eating – which was really a labor intensive exercise – as the excruciating challenge peculiar to those with dementia. In that same year, Yao set about designing her first prototype for Eatwell; a complete 9-piece tableware set created specifically for patients suffering from cognitive impairments in order to make the simple act of eating easier, more effective and more dignified for them. She was embracing science as an avenue to improve lifestyle thise segment of our society. Her design, which she entered for the 2014 Standford Design Challenge, emerged first place and since then has been exhibited severally in some workshops.
As a favorite pastime, Sha particularly loves nature and likes attending weddings.
Female Genital Mutilation (FGM) is an illegal social practice prevalent in Africa, Asia and the Middle East including Kenya typically carried out by removing part or all of a girl's external genitalia, and which is intended to prevent young girls from engaging in pre-marital sex.
However, history is significantly rewritten when these five bright tech-savvy Kenyan young teens of between the ages of 15-17 were motivated to embark on on mission to end FGM. With the invention of their app called I-Cut, their aim is to restore hope to hopeless girls by connecting girls to legal and medical assistance before or after forced to undergo FGM.
In 2017, these five girls who are students at Kisumu Girls High School, Kisumu, Kenya and also members of the School's Science and Technology club, entered their idea in the Google Technovation Software Development competition where they were the only ones to represent Africa and emerged as finalists.
In 2018, 'The RESTORERS' won the highly-coveted Daily Trust African of the Year Award and were presented with a cash prize of $25,000 in Abuja, Nigeria by the former Botswana President; Mr. Festus Mogae.
The interests of these five young scientists varies just like their proposed future ambitions. However, they remain in touch with their human nature, channeling it towards solving pertinent community issues such as FGM. If at 15-17 years, they could create I-Cut, one can only wait with abated breath on what the future holds for these girls!
READ MORE: THE SCIENCE OF CAREER GROWTH